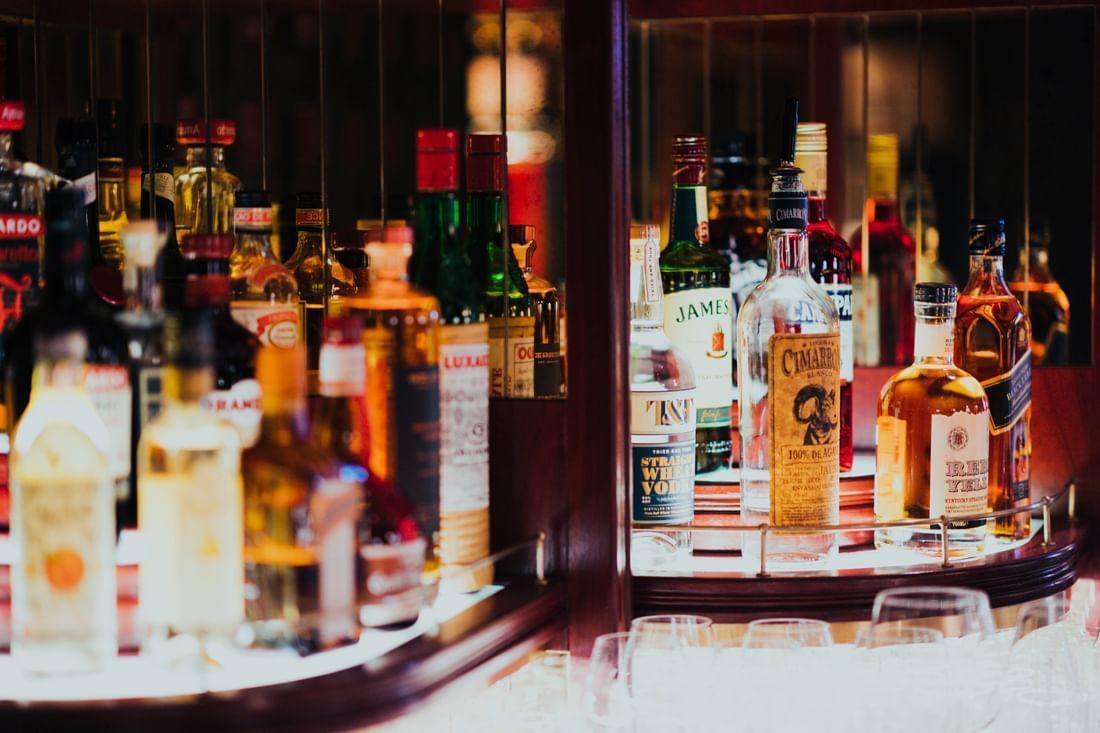 The Library Bar
Named "the Top Place to Sip and Sup" by the Wall Street Journal, "Best Bar in the Greatest City on Earth" by Maxim magazine, one of the best "Seduction Spots for America's Best Bars" by Playboy magazine and consistently chosen as one of Dallas' best piano bars, The Library offers a comprehensive menu of classic cocktails, beer and wine in one of the city's most popular uptown business and after work social meeting spots.
Signature cocktails include The Walk Down Melrose Lane, the Aviation made with Bombay Sapphire Gin, and Rosa's Margarita featuring Casamigos Anejo Tequila. Showcasing a new classic bar menu from our Executive Chef that includes a variety of specialty shareables and new lunch and dinner favorites.
*Live Music schedule below and may be subject to change.
DALENE RICHELLE – Mondays 6 p.m. – 11 p.m.

---

Nashville recording artist, Dalene Richelle, has performed all over the southern states with her band, Lantana. Venues have included The State Fair of Texas, Nashville's Wildhorse Saloon, Louisiana's Mercedes-Benz Superdome, and AT&T Stadium. As a solo vocalist and pianist, she brings her own style and velvet lounge sound to tunes of the 70's, 80's, and today's music.

JEFF ROBBINS – Tuesdays 7 p.m. – 11 p.m.

---

Jeff has travelled the world teaching advanced education music, recorded music on various labels and provided direction for a multitude of bands throughout his career. Jeff has enjoyed an expansive life of music that originated in Orlando FL and now continues throughout the Dallas metroplex.

ERIK BARNES – Wednesdays 6 p.m. - 11 p.m. and with Jeff Robbins every Thursdays 6.30 p.m. - 11 p.m.

---

Erik has been delighting patrons at The Library for over 20 years. Whether you are interested in an elegant evening featuring the American song book, including Gershwin and Porter, latest popular genres, or anything in between, Erik will perform these with a touch of class. The Library would not be the same without its main man, Erik Barnes.

GOGA – Fridays 8:30 p.m. - 12:30 a.m.

---

Goga is an amazing vocalist and musician with a unique baritone voice. He performs a wide variety of genres, from opera to rock. Goga studied classical piano since the age of 7, played the guitar for more than 15 years and composes his own music. He is a popular performer in Dallas and Los Angeles, and we're proud to introduce him to The Library's guests.

AUBREE-ANNA – Saturdays 9 p.m. – 1 a.m.

---

This singer, songwriter and entertainer has won a loyal following in the DFW area. Aubree-Anna, voted "Best Lounge Singer" by D Magazine where she was the cover model and feature of the issue. A Dallas favourite, Aubree-Anna is known primarily for her popular renditions of America's greatest classics like Frank Sinatra, Dean Martin, Ella Fitzgerald, Etta James, Billie Holiday and many more.



Library Bar Food Menu
Menu
Melrose Salad $12
Red Oak / Green Leaf/ Cranberries/ Peppered Goat Cheese / Candied Pecans /Champagne Vinaigrette
Classic Caesar Salad $12
Romaine / Parmesan Crisp / Croutons
Chicken Tortilla Soup $9
Chicken / Cheddar Cheese / Tortilla Strips
Fresh Avocado
Melrose Reuben Sandwich $15
Corned Beef or Turkey / Sauerkraut / Swiss Cheese / 1000 Island
Chicken Bacon Ranch Hoagie $15
Grilled Chicken / Crispy Bacon / Ranch
Lettuce / Tomato
Gulf Shrimp Pasta $24
Roasted Tomato / Mushroom / Sweet Peas
Grated Parmesan / Cream Sauce
Margarita Flatbread $14
Roasted Tomato / Basil Pesto
Mozzarella
Smoked Brisket Sandwich $15
Horseradish Cream / Nathan's Pickles
French Fries
8oz. Angus Beef Burger $18
Sharp Cheddar Cheese/ Lettuce/ Hot House Tomato
Melrose Aioli / French Fries
Texas Toast Club $15
Turkey Breast / Ham / Bacon
Lettuce / Tomato / Mayo
Chefs Board $26
Hand Carved Charcuterie/Regional and International Cheese
Fresh Berries
Roasted Chicken Breast $26
Roasted Potatoes / Broccolini / Pan Jus
Angus Beef Tenderloin $35
Cheddar Mashers / Roasted Mushrooms
Red Wine Demi
Library Bar Cocktails Menu
Our Cocktails
Maker's Mark Whisky / Simple Syrup /
Angostura & Orange Bitters
Remy VSOP / Fresh Lime Juice / Agave Nectar / Cointreau /
PAMA Pomegranate Liqueur
A Walk Down Melrose Lane
$17
Grey Goose Vodka / St. Germain
Cranberry Juice / Lemon Juice / Simple Syrup
Pyrat Rum / Spiced Pear / Orange Bitters / Raspberries /
Cointreau
Bombay Sapphire Gin / Crème De Violette /
Maraschino Liqueur / Simple Syrup / Lemon Juice
Beefeater Gin / Campari / Sweet Vermouth
Herradura Anejo Tequila / Grand Marnier / Cointreau /
Simple Syrup / Lemon & Lime Juice
Casamigos Mezcal Tequila / Cointreau / Pineapple Juice /
Lime Juice / Jalapeño / Simple Syrup
Maker's Mark Whisky / St. Germain / Crème De Violette /
Fresh Blackberries / Lemon Juice / Simple Syrup
Tito's Vodka / Licor 43 / St. Germain /
Prosecco / Lemon Juice
Maker's Mark Whisky / Chambord / Lemon Juice /
Simple Syrup
Herradura Anejo Tequila / Aperol / Lemon Juice
Tito's Vodka / Fever Tree Ginger Beer / Simple Syrup
Lime Juice
Ciroc Peach Vodka / PAMA Pomegranate Liquer / Lime Juice
Stolichnaya Vanilla Vodka / Kahlua / Espresso /
Simple Syrup
Hendrick's Gin / PAMA Pomegranate Liquer /
Spiced Pear Liqueur / Lime Juice
Library Bar Wines
Sparkling/Champagne
Cava, Poema/Spain
$12/$48
Prosecco, Benacetto/Italy
$12/$48
Domaine Carneros, Taittinger Brut Cuvée / California
$25/$100
Champagne, G.H. Mumm Cordon Rouge / France
$32/$140
Champagne, Perrier Jouët Brut / France
$37/$145
White Wine
Chardonnay, Neyers Vineyards 304, Sonoma / California
$19/$75
Chardonnay, Stags' Leap, Napa / California
$20/$80
Chardonnay, Domaine François Carillon, Burgundy / France
$20/$80
Sauvignon Blanc, Dog Point, Marlborough / New Zealand
$16/$60
Sauvignon Blanc, Cakebread, Napa / California
$20/$80
Pinot Grigio, A to Z Pinot Gris, Oregon
$16/$60
Sancerre, Patient Cottat, Loire Valley / France
$19/$75
Pinot Grigio, Santa Margherita / Italy
$18/$70
Rosé, Daou Rose, Paso Robles / California
$15/$60
Rosé, AIX, Provence / France
$16/$60
Riesling, Basserman Riesling, Piedmont / Germany
$15/$45
Red Wine
Pinot Noir, Rénosance, Willamette Valley / Oregon
$17/$68
Pinot Noir, Fess Parker, Santa Rita Hills / California
$19/$75
Pinot Noir, Belle Glos, Clark & Telephone, Monterey / California
$21/$80
Merlot, Napa Cellars, Napa Valley / California
$17/$68
Red Blend, Pessimist, Paso Robles / California
$16/$64
Bordeaux, Comtesse De Malet Rooquefort, Bordeaux / France
$16/$64
Malbec, Catena, Mendoza / Argentina
$17/$68
Cabernet, Hess Shirtail Ranches, North Coast / California
$15/$60
Cabernet, Austin by Austin Hope, Paso Robles / California
$17/$68
Cabernet, BV Cabernet, Napa / California
$20/$80
Zinfandel, Neyers, Vista Luna Ranch / California
$17/$68
Library Bar Spirits
Cognac
Courvoisier Initiale Xtra
$55
Remy Louis XIII*.05oz
$100
Rum
Mount Gay Black Barrel
$13
Vodka
Stolichnaya Blueberry
$13
Single Malt Scotch
Balvenie Caribbean Cask 14yr
$25
Laphroaig Quarter Cask
$20
Macallan 15yr Fine Oak
$30
Library Bar Spirits/Beers/Ports
Beers
Revolver Blood & Honey
$9
TAP 50ft Jack Rabbit IPA
$9
TAP Fire Ant Funeral Amber
$9
Dessert Wines
Inniskillin, Ice Wine
$19
Michele Chiarlo, Nivole, Moscato, Italy
$14
Dolce, Late Harvest, Napa
$23
Ports
Taylor Fladgate 10yr Tawny
$13
Sandeman Founders Reserve
$15
Taylor Fladgate 20yr Tawny
$20